Whether in the early morning or evening, your master suite can be your sanctuary; a place to escape from the rest of the world. In truth, your master suite should represent a home-within-a-home, a comfortable personal retreat. Here you prepare your mind and body for the challenges of the day and quietly wind down and relax before retiring in the evening. So are you thinking about a master suite remodel?
When considering a remodel or even an addition to your existing master bedroom, your options are wide-ranging. Perhaps you dream of a comfortable sitting area or adding a fireplace. Or, maybe turning your bathroom into a European spa or a tropical paradise, an experienced design build company can help you realize your vision while working within your budget.
Think Escape
Creating a relaxing and elegant master suite is one of the most desirable home remodels. Perhaps you are expanding because of an "empty nest." You can repurpose or expand into an adjacent room, "bump out" to make a larger room, or just make the most of your existing space. A master suite remodel can add to your enjoyment and the overall value of your home.
After serious reflection and contemplation about what you hope to include. Consult with an experienced design build expert to help you understand how best to incorporate your ideas, discover what is possible, and even virtually simulate the proposed result.
Here are some of the most popular master bedroom remodel features that homeowners have requested in recent years.
Sitting Area with Fireplace
In northern Europe, the Danish people embrace the concept of "hygge," a sense of comfort and well-being from a warm and comfortable environment.
Capture your own "hygge" in your new master suite remodel with space to read, relax, meditate, or even watch TV. This can be achieved by adding a calming fireplace with comfortable chairs. Enjoy the perfect peace alone or with your partner. The area may be adjacent to, or even part of, the main bedroom section of your suite.
You may even add some stylish shelving for books, memorabilia, and family photos to enhance the ambiance of the sitting area.
Extra Closet Space
The lack of closet space is a common aggravation among homeowners. When contemplating a master suite upgrade, finding a way to include walk-in closets for easy entry and even a separate dressing area is often a priority. These can also include a walkthrough to the master bathroom for ease and convenience.
Adjoining Deck or Patio
Even in Pennsylvania, homeowners enjoy waking up to a bright and beautiful sunny morning or watching the rain or snowfall. Create your own personal outdoor space to relax in a private outdoor setting. On pleasant evenings, wouldn't it be great enjoy the peaceful night sounds from your personal deck or patio before going to bed?
Moving to your adjacent deck for your morning coffee can also be an excellent way to start your day.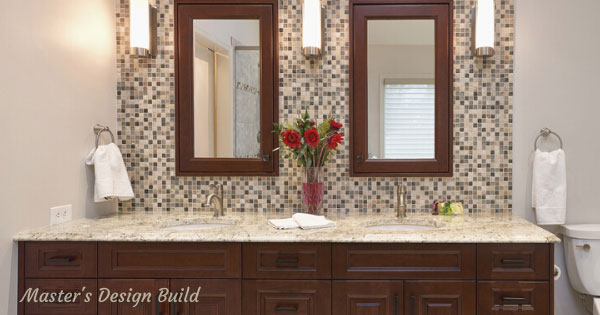 Spa-Like Master Bathroom
Your bathroom can be a sanctuary within a sanctuary. The most personal space in your home, the master bathroom, can include many of the features of a spa. Add elements like a tiled walk-in steam shower, a deep free-standing bathtub, and elegant radiant-heated travertine or other elegant stone tile flooring. Install a stylish sink and other fixtures that will be illuminated by dramatic dimmable lighting. You may never want to leave!
Start with a Proven Design Build Company
Award-winning Master's Design Build has been improving Eastern Pennsylvania homeowners' lifestyles with creative remodels for over a decade. From your initial consultation during which you share your dreams and ideas, your Master's designer will help you. They formalize your thoughts, explain how the remodel can work best, and help you create a design that works within your budget.
The essential advantage of working with a design-build company like Masters' is that the same company that collaborates with you on the design will also execute the construction. This combination offers many advantages:
No confusion converting the plan to reality
Continual communication with the same company from start to finish
Accountability
Lower cost because only one company is involved
The designer can set the work schedule early on for you to let you plan your life around the remodel
Visit the Master's Design Build website to learn more about the company and process and view some of the beautiful remodels that this Hatfield PA company has accomplished.
To make an appointment for your first no-obligation consultation, call Master's Design Build at 1-215-723-6162.
Or, visit the Let's Talk Page to leave your contact information, and one of our professionals will contact you.