A beautiful sunroom adds brightness and functionality creating an in-home sanctuary full of natural light and shadow. Scientists have proven that sunlight is essential for human health. A sunroom brings the outdoors in and also provides a delightful refuge for relaxing on a rainy day.
Whether designed for three seasons or equipped for four-season use, a sunroom enhances the functionality and expands the useful space within your home. In most any case, a sunroom increases the value of any home.

The Many Uses of a Sunroom
A four-season sunroom differs from a three-season. Four season sunroom windows are double-pane insulated glass for efficient heating and cooling.
Space permitting, a sunroom might be an additional dining and entertaining area. In the morning, breakfast in your sunroom can be a terrific way to start the day.
Sunrooms can serve multiple purposes... A primary family living area with TV, music, and plenty of seating. A fireplace might add seasonal enjoyment, especially while watching the snowfall from inside the cozy warm room.
If you're entertaining overnight guests, convert the additional space to a delightful guest bedroom. Or room might serve as a playroom for your kids or grandkids, perhaps reducing the noise levels and disarray in the central part of the home.
With constant temperatures in a four-season sunroom, you can become a true year-round gardener. Potted plants and herb gardens thrive in a beautiful, well-designed, temperature-controlled sunroom.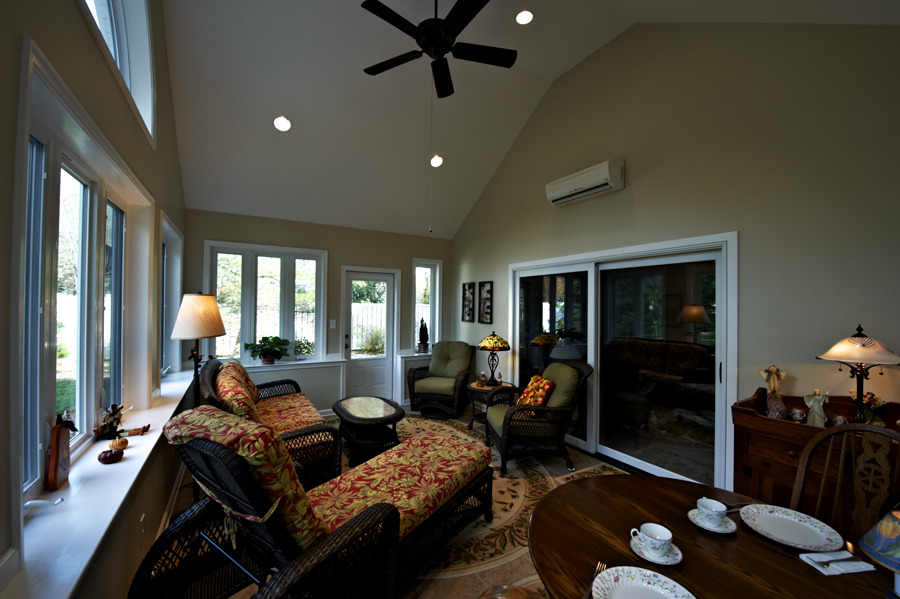 Creating Your Sunroom
A sunroom design involves the same considerations as any home addition, although the sun's path relative to the proposed room may be an additional factor. Consulting a full-service professional like award-winning Master's Design Build in Hatfield, PA is an excellent starting point. During an initial, no-obligation consultation, Master's expert will evaluate the existing structure, take note of your design choices and desired amenities, and recommend a strategy for creating your dream addition.
Master's Design Build's approach offers many advantages compared to working with a typical architect/designer and a separate builder. The core benefit of using a design-build firm like Master's is that the project becomes seamless and the usual confusion and extra cost of translating designs to reality are eliminated.
Contact Master's Design Build
View Master's Design Build gallery of remarkable additions and outdoor living area creations. For more information, contact the professionals at Master's Design Build, serving Bucks and Montgomery Counties of Pennsylvania.
Phone for a consultation at 1 (215)-723-6162.
Or email Master's at info@masters-designbuild.com