Sooner or later, the kitchen that once seemed modern begins to look tired and timeworn. Those once bright colors have faded or even gone out of style. Your appliances no longer match the current trend, and perhaps a burner or two are no longer working correctly.
You may have a vision of opening up your kitchen for a better view of the family or dining room to give the area a more spacious feel. And, maybe adding some design features like a stone or tile backsplash and more elegant lighting to your kitchen area would be just what you had in mind for your kitchen expansion and upgrade.
If beauty, style, and improved functionality in your large kitchen are your objectives, working with a design-build company to reimagine and recreate your kitchen space is the ideal solution.
Incorporating the kitchen design with the actual construction of a remodel project can:
Assure all aspects of your vision are met
.
Improve communication from start to finish.

Eliminate mistakes and decrease time.

Ensure the finished project meets all expectations.

Save money.

Master's Design Build is an award-winning design-build company based in Hatfield PA, serving adjacent Bucks and Montgomery Counties with large kitchen remodels. For more than a decade, Master's Design Build has helped homeowners realize their dreams with top-quality design and remodel projects for nearly every type of home upgrade project.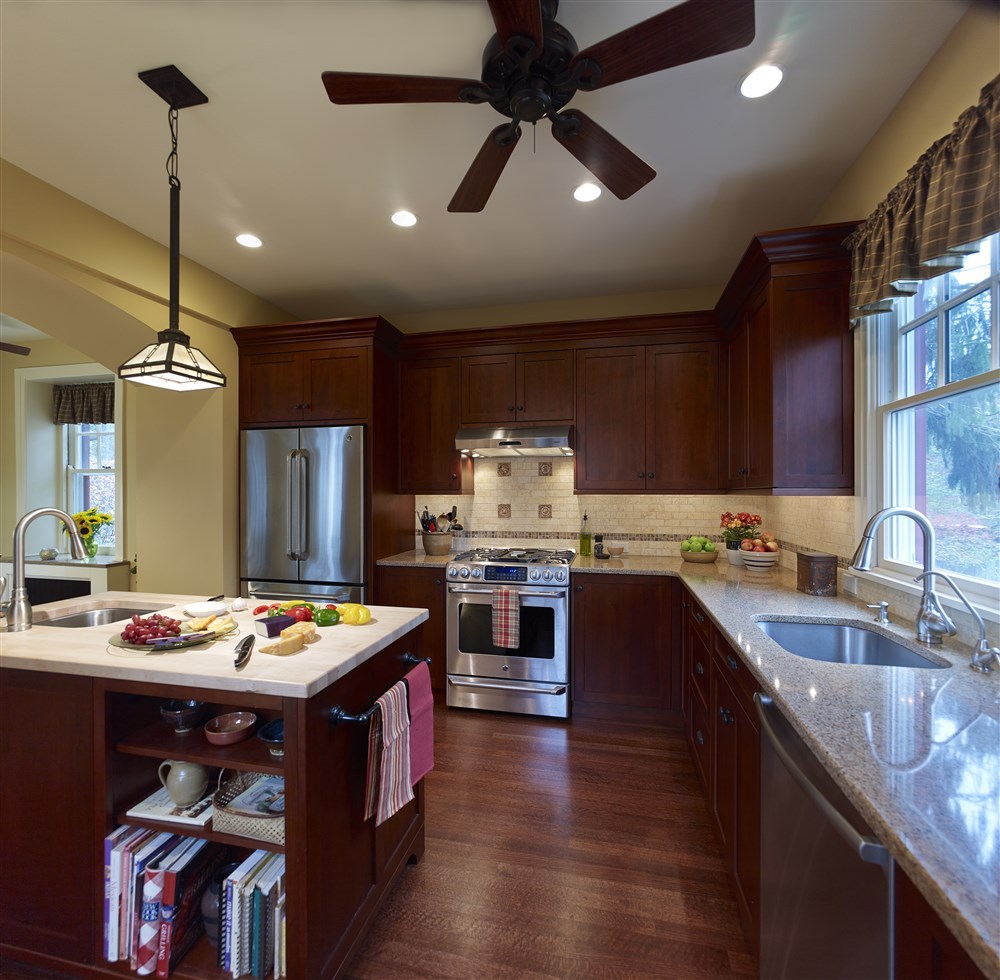 Large Kitchen Remodels Improve the Space and Convenience
Perhaps you need more kitchen space ideas to host informal meals for family and friends. Or, maybe you must have more efficient appliances to minimize your prep time.
An ergonomic analysis is applied to any kitchen design to improve access and to simplify complex activity. Structural modifications are always possible that will improve both the appearance and functionality of the kitchen and the adjacent space.
In past decades, homes and kitchens were often designed to compartmentalize their purpose. Adjacent kitchens, dining rooms, breakfast nooks, family rooms, and living rooms were constructed with walls and entries specifically for individual rooms. The effect was to separate each area to provide a specific space for each function.
Today, wide, bright, and open space is more of a preferred norm. Removing the walls that surround a kitchen can provide open access to a large dining and family room area, eliminate the isolation, and allow the cook-of-the-day to prepare meals while participating in the conversation and activities occurring in the adjacent areas.
Removing the walls surrounding the kitchen area makes the kitchen seem larger and give a spacious, airy feel to the entire home.

Large Kitchen Remodel for Improved Functionality
Many homeowners complain about kitchens with too little counter space. Often they express a desire for a center island but the space seems too small to allow that improvement. An experienced interior design-build professional can help to visualize how space can be modified to allow for dramatic changes in useable space. Walls may be moved or removed, and the entire configuration of can be dramatically altered to create the ideal preparation space.

Designing for New Kitchen Appliances
More efficient, modern appliances can also impact the layout of your kitchen. Whether moving to more substantial, higher capacity refrigerators, ovens, microwaves, dishwashers, and thermoelectric wine coolers or even to ones with lower capacity, the design-build expert will help you to imagine an ergonomic layout and aesthetic appearance that fits best within your new kitchen.
Contact Master's Design Build for Large Kitchen Remodels
Master's Design Build is a leading home and kitchen remodeling company, specializing in kitchens and other unique home elements. As both the designer and builder, this Hatfield PA company works with homeowners from the initial concept drawings to the final walk-through of the finished project.
Contact Master's Design Build for a consultation to discuss your needs and desires for an improved kitchen area. Visit Master's website resource center to view some remodel ideas and request a Master's Free Kitchen Remodel Guide.
For more information, phone 215-723-6162.