Laundry areas often take a backseat during a home remodeling project behind more glamorous kitchens, master bedrooms, and family rooms. Tucked away and often cramped, undersized laundry and utility spaces make the essential laundry duties of sorting, loading, washing, drying, and folding chores even more difficult than they should be.
The essential elements of remodeling a laundry room begin with the design. When additional space is needed you'll need to take space from an existing area or build an addition to your home.
A laundry room can be stylish and provide plenty of storage and cabinets to store cleaning supplies and materials. Laundry rooms can be multifunctional and serve as a mudroom, pet bathing area, and other essential functions.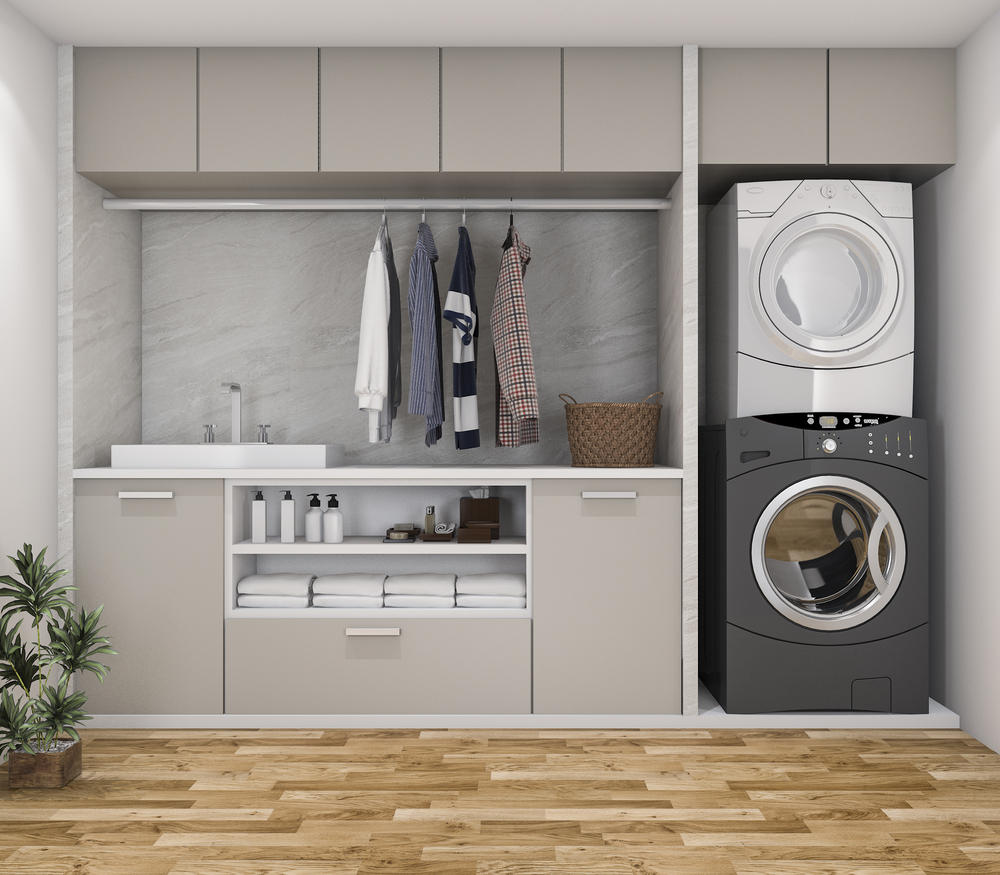 Location of a New Laundry Room
While historically, laundry rooms were in the basement of many homes, usually to separate the wet, noise, and disarray from the rest of the house. New home designs bring the laundry room closer to the bedrooms where dirty clothes multiply to reduce the work time and effort. Placing the laundry room on the same floor, near bedrooms is a good idea, although homeowners should consider washers and dryers that are rated with the lowest decibel (dB) rating to dampen unnecessary noise.
Quite often laundry rooms are in the garage so the house doesn't get dirty with mud, water or snow.
Some upscale homes even include a backup washer and dryer area off the master bedroom or near children's rooms to allow for quick access for small loads.
Floors and Walls
Water is the enemy of many flooring materials. Ceramic tiles with a strategically placed drain are the practical choice.
Color coordinating appliances, wall materials, and floor tile can add real beauty make a new laundry room a peaceful place to work.
Consider Stacking Washer and Dryer
Unless you have lots of space you may want to consider a stacking washer and dryer. They will free up the floor, counter, and storage space. The additional square footage lets you add counter space for folding., while beautiful and coordinated cabinetry hides all necessary supplies.
Add a Dog Wash
Don't muck up your bathroom or pay expensive grooming fees. Adding a dog washing area to a laundry room makes practical sense. This serves to keep your beloved pet's dirt and hair away from your home and carpeting.
Professional Design and Build of Your Upscale Laundry Room
Share all of your ideas for the perfect laundry room design when working with a professional, award-winning designer like Master's Design Build of Hatfield, Pennsylvania. With over a decade of experience in both designing and building home additions and creative remodels, Master's will adapt your personal preference into a functional and beautiful design in your home.
Master's Design Build offers a free first-time consultation to discuss your wants and needs and will provide new suggestions and solutions. Following an agreement to proceed, Master's will present a formal design and timetable.
As a design-build firm responsible for the entire project, Master's Design Build will communicate with you throughout the process to ensure that you stay informed of the progress and next steps as they occur.
For more information and ideas, check out the Master's Design Build website Projects Gallery to view some of their remarkable creations.
If you wish to ask questions or to discuss your ideas, phone Master's Design Build at +1-215-723-6162 today.