Outdoor Living Areas: Creating a Relaxing Getaway
The Danish have a name for it: "hygge," pronounced "hoo-gah." Hygge is a state of comfort influenced by the surroundings that make you feel serene, content, and happy. When we are at home at the end of a long or stressful day, hygge can be our primary objective.
Relaxing outside in a beautiful, comfortable, and protected living room-type setting while enjoying the company of family and friends can become your reality. Reimagine that concrete slab of a patio by envisioning a luxurious and elegant outdoor room with open walls and an atmosphere that invites and entertains even on a rainy day or a chilly evening.
Bring the indoors out by adding a modern and comfortable exterior living room to your home.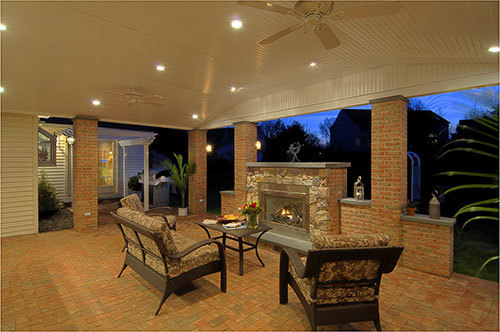 Adding to that, plan a beautiful brick or masonry clad gas fireplace focal point with comfortable seating and an open-air feel that allows you to enjoy the comforts of indoors while breathing the freshness of the great outdoors.
An outdoor den for just reading and relaxing at the end of a long day can also be therapeutic.
Montgomeryville Outdoor Living Room by Master's Design Build
A Contractor of the Year Award Winner by Master's Design Build in Pennsylvania, the Montgomeryville outdoor living area creation is a stunning, finished example of adding a beautifully compatible and practical addition to an existing home. By extending the roof from the current structure, supported by stately brick columns, Master's Design Build was able to create a beautiful outdoor living room. Brick or stone pavers for floor and low walls define the perimeter of the space.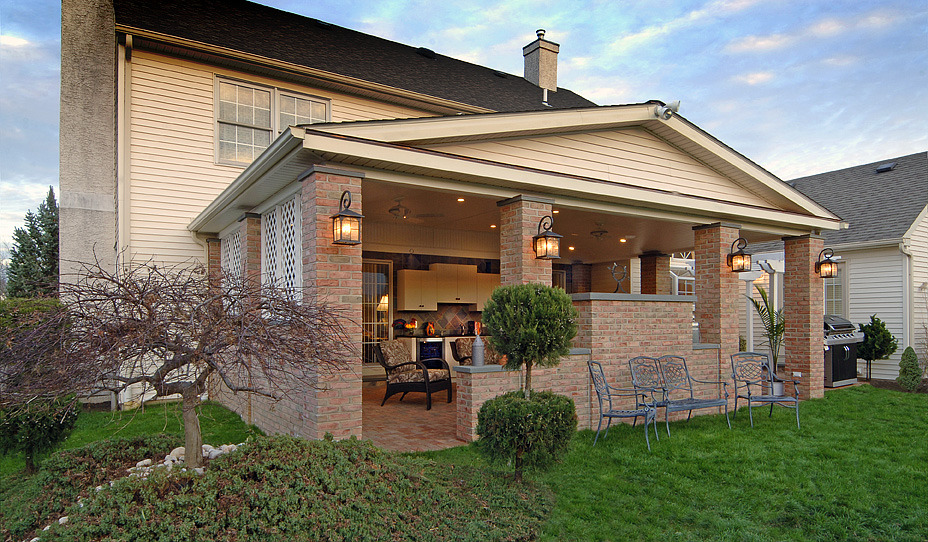 The roof pitch, shingles, and brickwork of the addition are perfectly coordinated with all of the elements of the existing house and blend as if they had been part of the original construction.
The dramatic stone masonry gas fireplace offers a comforting ambiance, perfect for starry or rainy evenings throughout the year. In the winter, you can even enjoy the fire's heat and light while surrounded by a cozy, ski lodge-like feel as you watch the snow fall from the comfort of your favorite chair.
Energy efficient sliding glass doors allow easy access to and from the house.

More than an Outdoor Living Room
Your new oasis can also include a full bar arrangement to eliminate traveling into the house for more refreshments. A refrigerator keeps food and drinks cold, while the sink and tap provide water for food preparation and washing.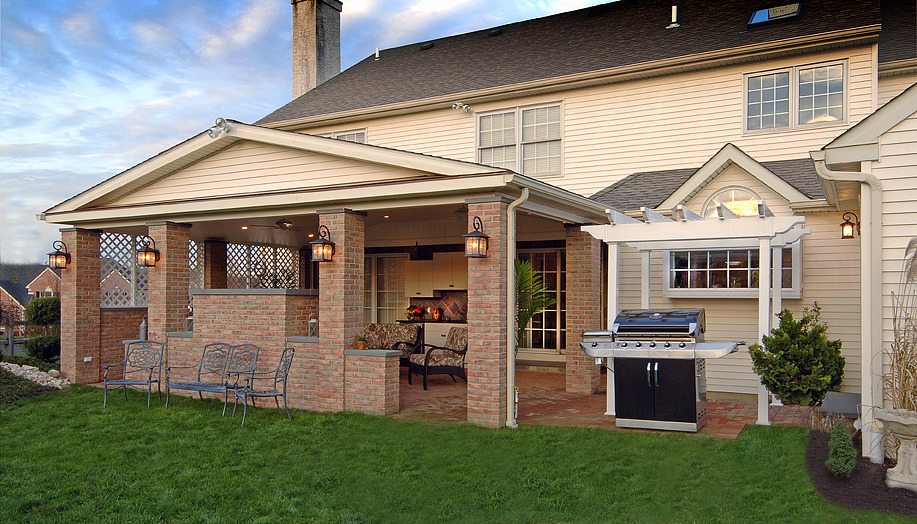 Just steps away can be your exterior cooking area with a gas or charcoal grill to create your favorite foods without messing up the kitchen. To protect that space, perhaps a well-designed and compatible pergola over the grilling area will allow smoke to escape while providing some protection from the sun and other elements.
Of course, a wall-mounted TV over the masonry fireplace can provide loads of entertainment and sports excitement as you enjoy the indoor comfort of your outdoor oasis. While you are at it, install a sound system to provide music during your get-togethers or perhaps something soft while you relax alone in the comfort of your outdoor living room.
Master's Design Build Can Transform Your Dream into Reality
Dreams do not need to be impossible.
The expert team at Master's Design Build have many years of experience in converting homeowner ideas into reality. With Master's artistic eye and knowledge of all elements of construction, a simple description of what you hope for is all that is required. Master's will not only design the interior or exterior upgrade, but they also build it.
Having the design and the construction process with the same group eliminates misinterpretation while saving time and money.
Add value to your home by contacting Master's Design Build in Hatfield PA, serving Montgomery, Bucks County, and surrounding areas. For state-of-the-art home remodeling ideas, check out the Master's website.
Phone Master's Design Build at 215-723-6162.