Trends in building design and materials have evolved in recent years. Efficiency and sustainability are now at the forefront of design build trends and processes. Connectivity, intelligent home management systems, renewable energy, and renewable materials help to give homeowners pride of ownership, better control, and interactivity. They also experience the benefit of reduced utility costs that come with many of these design choices.
A design build professional can collaborate with the homeowner to decide which elements best suit their lifestyle and taste. Here are some building and remodel trends from 2022 that will continue throughout 2023.
Alternative Power Options
As the public conscience and even governmental regulations turn toward renewable energy resources, more homes and businesses are implementing alternative options. According to a University of Michigan study, 12.5% of the energy used in the United States today is renewable. This trend is only increasing as traditional energy costs rise. In 2019, renewable energy passed coal as a primary source, with wind and solar as the fastest-growing options.
For homeowners and remodelers, solar systems have become the most popular option, along with a wide range of energy-saving technologies and appliances.
Solar energy systems can provide the necessary power for heating and air conditioning, lighting, water heating, and operating appliances. Better yet, these systems can help homeowners save a significant amount of money during the home's life.
Connectivity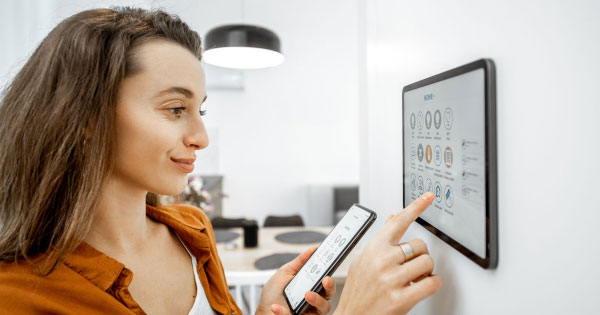 With modern technology, homeowners can control various elements in their homes using their smartphones. The most popular connectivity technology for homes is smart lights. These lightbulbs can be controlled by a smartphone. Thus, turning your lights on and off is a simple swipe from anywhere. Another technology allows for controlling appliances. When leaving a place of business or returning from a trip, for example, you can adjust the thermostat to the preferred temperature.
Large Windows/Glass Walls
The glass industry now offers materials that retain energy efficiency while allowing plenty of natural light into the home. This additional light can extend into some interior parts of the house when you build floor-to-ceiling glass walls.
In some situations, homeowners can enjoy the wonderful view of their exterior, perhaps a panoramic view of a forest, a beautifully landscaped lawn, or a delightful water feature. Automated window covers, tinting, or drapery are great additions to reduce the excess glare of direct sunlight and provide privacy.
Sustainable Building Materials
Building materials are environmentally friendly if they are easily recyclable, durable, and low in pollutants. Many newer popular building components require less energy to produce, are renewable or recyclable, and are more energy efficient than traditional materials. Popular options include recycled steel and wood, cork, bamboo, and clay bricks.
Single-Story Bungalows
Flat, detached, single-story homes are a growing trend and a terrific option for empty nesters and retired couples. With all living space on a single floor, the inconveniences of stairways to upper levels are eliminated, and the construction cost per square foot of living space is reduced. These bungalows offer small living options while having enough space for guests to visit.
Contact Master's Design Build Group
Master's Design Build Group of Hatfield, Pennsylvania, works with clients from start to finish to imagine, design, and build for home construction and remodeling projects. The professionals at Master's Design Build specialize in creating beautiful kitchens, bathrooms, exteriors, and home additions that enhance their clients' pride of ownership while increasing their home's value.
Visit the Master's Design Build website to see some of the company's remarkable recent remodel projects. By handling the entire design, permitting, and construction processes within the same company, Master's Design Build Group manages the project from design to the final walk-through to ensure their clients' satisfaction. Having all functions within the same company improves communications, creates smoother transitions, and reduces project costs.
Serving customers in Montgomery and Bucks counties in Eastern Pennsylvania for more than a decade, the Master's experts will be pleased to help you realize your dream.
To schedule a consultation with a professional, visit the Master's Design Build Group website Let's Talk page. Or you may call the office at +1-215-723-6162.