Kitchens are the most frequently renovated room in a home, according to a recent Forbes article. As the hub of activity and an area that is almost constantly in use, a beautiful, modern, and ergonomically-friendly space is nearly everyone's highest priority. Remodel your kitchen into an eco-friendly dream kitchen.
Because the kitchen incurs more use and traffic than any other, it can quickly become outdated. Storage and counter space frequently become too limited for current use. As appliances begin to wear out, new energy-efficient kitchen devices become more commonplace.
Homeowners are upgrading old features by creating more space and shelving, adding countertops, installing new appliances, and replacing the old flooring and cabinetry with bright and beautiful new solutions.
In many instances, design-build architects and homeowners confer to open up walls to increase workspace, create higher visibility, and reconfigure storage. To offset some of these renovation costs and become more eco-friendly, often these renovation projects involve energy-reducing modifications.
Making Your Kitchen More Energy Efficient
Eco-friendly homes and kitchens incorporate sustainable materials, appliances, and designs to reduce energy consumption while helping to protect the environment.
With energy efficiency and eco-friendliness in mind, an experienced design-build professional will develop a plan to reach your goal of attention-grabbing beauty with substantial improvement in utility and performance.
When imagining an eco-friendly dream kitchen, your design-build expert will help you assess the positive energy-reducing aspects. They will consider the materials used in the upgrade as well as improvements in the energy efficiency of replacement fixtures, lighting, and appliances.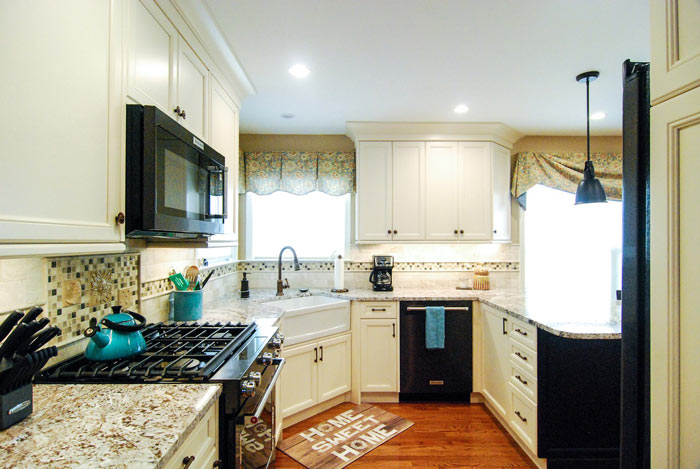 Building Materials for an Eco-Friendly Dream Kitchen
Low to no-VOC finishes. VOC (volatile organic compounds) should be avoided in paints, varnishes, and other coating products. These dangerous emissions can be harmful to humans while also causing long-term damage to the atmosphere.
Oversized, energy-efficient windows in the kitchen will admit more sunlight. This can reduce your lighting costs while also keeping energy from escaping. New windows can also help with temperature control.
Reface cabinets instead of custom building. Quality refaced cabinets will save money and considerable energy while creating a like-new appearance on the exterior.
Use engineered quartz or Corian (a high-quality DuPont product) countertops instead of granite. While granite may be beautiful, the energy expended to mine and transport over long distances is far greater than alternative materials.
Materials – you and your design-build professional should look for materials that contain actual recycled contents. Or perhaps look at salvaged items that can be brought back to like-new condition. Stainless steel, for example, may contain up to 60% recycled material. Items like butcher block and other wood elements can also come from reclaimed materials.
Think long-term by using materials that will last. Do not hesitate to invest in higher quality, durable elements for your kitchen. Long-lasting materials and appliances will still look great and perform well for many years without requiring replacements.
Appliances, Lighting, and Fixtures
Energy Star LED fixtures reduce energy consumption. They adjust easily to lower or raise the light levels when required. While more expensive to install, LEDs save energy and last much longer than conventional lights.
Always look for appliances and fixtures with Energy Star and WaterSense Certifications. Backed by third-party independent certifiers, these appliances and fixtures will save significant resources and costs over the subsequent decade.
Master's Design-Build: The Solution for Eco-Friendly Renovations
For kitchen, bathroom, living area, or any other professional upgrades and additions to your home, working with a design-build professional like Master's Design Build is your best option. Working with you from concept to completion, the professionals at Master's will create a stunning, eco-friendly, and user-friendly renovation that will be the envy of friends and family.
Serving delighted clients throughout Eastern Pennsylvania, Master's Design Build will help you realize your renovation dreams. All while performing the job with as little interference in your lives as possible.
To view some of the Master's finished projects, visit their website Gallery.
For further information or to arrange a private consultation to discuss your wishes, call Master's Design Build in Hatfield, PA, at +1-215-723-6162.
Or, you can complete the simple Let's Talk Form on the website, and one of our professionals will contact you regarding your ideas.