Sooner or later, many families encounter the dilemma of needing more space or, perhaps, a rearrangement of the existing rooms to be more functional. The desire for a new family room, bathroom, storage, or even an extra bedroom often triggers a need to sell and purchase another, more expensive home.
However, if you love your neighborhood or do not wish to uproot your kids from their schools, you have a better option. You can create the expanded living space needed with a new home addition.
A well-designed, aesthetically compatible addition to your home can create a notable improvement to your space. It can also enhance the exterior and create the feeling of a new, yet still familiar home. Here are some things to consider as you get started on your new home addition.
Designing Your Addition
Working within the restrictions of your lot, a design build specialist can help. By determining how much living space you can add to the existing structure. Armed with this information, you and the designer can weigh your needs and budget to identify options for your addition. The design build specialist will also aim to maximize your improvement budget.
The final design may present a different solution than what you first anticipated. For example, while a new ground floor master suite might be your dream, you might add a new family room onto the home while converting the old family room into the master suite.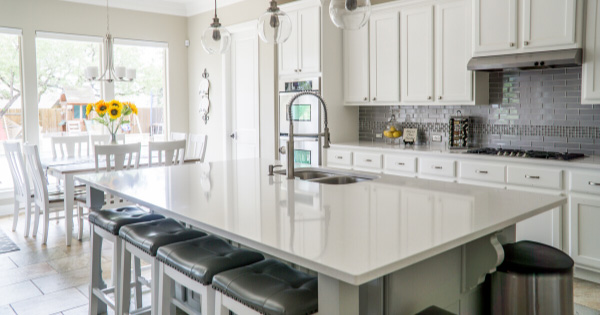 Maybe your old kitchen is too small, and you need more space and additional storage. Perhaps you'd even like an adjoining dinette area. You could consider expanding the existing kitchen space by taking out the exterior wall and extending the space outward. Your new kitchen could provide more natural light, counter space, and storage. Not to mention ergonomically-situated appliances and perhaps even a center island with plenty of accessories.
Influencing Factors for New Home Addition
As you and your design build expert begin to envision your living space addition, specific considerations are important. Some of these include:
Identify the addition's footprint limitations based on lot lines and zoning setbacks to ensure everything will fit. If your plan does not work, you might consider building up rather than out.
Check with your Homeowners Association. They often have rules limiting alterations, presumably, to protect the value and appearance of the whole neighborhood.
Consider ways elements like wind and temperature might affect the interior of the home with the new addition.
New space means higher HVAC demand. Make sure your existing system has enough capacity to manage the entire home. If not, a supplemental or upgraded system may be required.
Working with Your Design Build Expert
A company that works with you to design the addition while also executing the construction offers many advantages:
While designing your new space, the design build professional understands the real cost of labor and materials. This knowledge will eliminate "budget shock" when you take your design plan to a separate builder.
Communication is improved. The designer stays with the project from beginning to end to ensure your ideas are executed as you hoped.
Design to build is seamless. You experience no confusion of intent as designs are transformed into reality.
Project disruption is less because the designer can create a strategy to schedule all phases of construction to minimize interruption.
Your design should incorporate compatible rooflines and angles to have the addition complement the homes' existing design.
The total cost of a design build addition is usually less since it involves only one profit center.
Contact Master's Design Build Group for Your Professional Home Addition
Headquartered in Hatfield, PA, award-winning Master's Design Build brings almost two decades of experience to creating beautiful remodels, additions, and home improvement designs in homes throughout Buck and Montgomery counties in Eastern Pennsylvania.
For an initial in-home consultation to discuss your dream addition, call Master's Design Build Group at 1-215-723-6162.
Or, simply leave your name, phone number, and a message on the Contact Us Page of the website.